October 12, 2023
Posted by:

Jacky Melek

Categories:

Business Solutions, Software Development, Website Development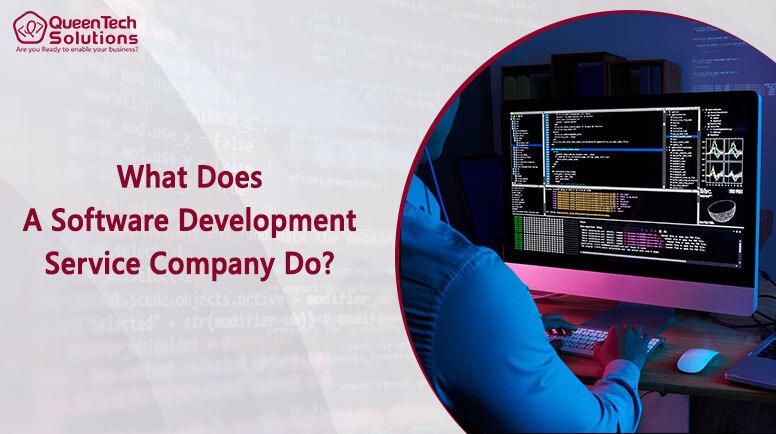 In today's business landscape, the necessity for powerful, adaptable software is indisputable. However, merely recognizing this fact is no longer sufficient. The ever-evolving software market demands that businesses continuously innovate and maximize the utility of software in their operations. Software has become an integral part of every aspect of business, and leveraging the advantages of software application development offers numerous benefits.
In this blog, we aim to delve into various aspects of software application development, including its definition, significance, and the potential beneficiaries of opting for a trustworthy software development services provider. It's remarkable how software development services have evolved to propel businesses to new heights, a prospect that was once unimaginable. So, let's explore the various types of software application development, their processes, and the advantages they offer.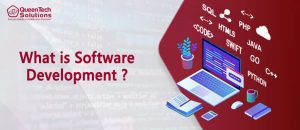 What is Software Development Services?
In today's tech-savvy world, the integration of technology into work and business has become imperative for success. Consider this advice or a stern warning, but its validity is unquestionable.
To put it simply, software development entails the creation and maintenance of applications and frameworks aimed at enhancing your business's productivity.
Software houses like QTS software company excel at crafting tailored custom software development services to cater to your specific business needs, ultimately simplifying and improving operations for both you and your employees.
While there is no shortage of software developers capable of producing code that meets technical requirements, it's essential to recognize that in a competitive market, mere functionality is insufficient. Software should epitomize innovation, standing out by meeting customer demands in a unique and creative manner.
The mark of well-designed software is its simplicity, seamlessness, and user-friendliness. Every step in the design process should prioritize the end-user's experience, placing user satisfaction at the core of any successful software development project.
Additionally, the aesthetics of the software represent a crucial element in user-focused software development. The visual appeal of the software not only captures a customer's attention but also keeps them coming back for more.
Benefits of Software Development
Certainly, one of the compelling reasons for initiating on a software development project employing various software development tools is its potential to significantly enhance productivity. Beyond that:
Cost Savings: Software development effectively limits expenses related to training, licenses, and necessary upgrades whenever feasible.
Enhanced Flexibility: It grants a heightened degree of flexibility upon your business, allowing it to adapt and evolve more efficiently.
Competitive Edge: Software development provides your business with a competitive advantage over peers in your industry.
Increased Company Value: It contributes to an augmented valuation of your company, making it more attractive to investors and stakeholders.
Enhanced Quality: Overall, software development strengthens the quality and efficiency of your business operations.
The foremost significance of software development is indisputable for the success of businesses, regardless of their industry or size. In essence, the more up-to-date your technology, the greater your prospects for success. This underscores the notion that virtually any business, regardless of its sector or scale, can derive substantial benefits from software development in various ways.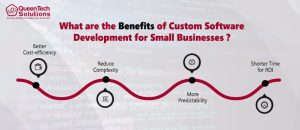 What Is a Software Development Company?
A custom software development company is an entity specializing in the creation and customization of software applications, frameworks, and tools aimed at addressing specific challenges or achieving particular objectives. While the composition of software development teams or companies can vary, typically, they include software architects, developers, a product owner responsible for testing application interfaces and ensuring their proper functionality, and a project manager to oversee the development process.
What Does a Software Development Company Do?
A custom software development company typically specializes in specific software domains such as web development, mobile applications, or fintech. They offer a wide range of services, including custom software development, web application creation, mobile app development, cloud computing solutions, DevOps automation, software prototyping, quality assurance, and system integration.
The actual software development process involves coding, overseen by software developers. Depending on the company, these developers analyze user requirements and create, test, and develop software to address problems, provide entertainment, or enhance user experiences. They also document the software for future upgrades, conduct thorough testing, and collaborate with other computer specialists to ensure the software's functionality and quality.
Let's explore the key services offered by software development companies:
1. Requirement Identification
In the initial phase, a software development firm seeks to understand the purpose and significance of the software. They identify its core functionalities, impact on users, and the specific needs it should address.
2. Software Development Process
Subsequently, the company designs and develops applications that align with established criteria and user requirements. This may encompass various products, such as desktop solutions, mobile apps, and Software as a Service (SaaS) offerings.
3. Quality Assurance and Testing
Testing and quality assurance play a pivotal role in the software development process. Software firms may incorporate testing and iterations, particularly when employing agile methodologies. This phase ensures that the software functions as intended, and any identified issues or defects are promptly addressed.
4. Release and Maintenance
Upon completion, the product is released for user utilization. The software development company may also offer ongoing maintenance and support to ensure the continued functionality and performance of the software.
While most software development firms follow this fundamental process, some utilize their experience gained from various projects to enhance their overall business processes and methodologies.
What Services Do a Software Development Company Offer?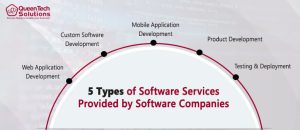 Web Application Development
In today's digital age, even children are familiar with standard software development. However, web application development takes this a step further. It involves shorter development lifecycles and a more extensive utilization of diverse business models compared to traditional desktop applications.
Development teams are typically smaller, yet they encompass a wider range of test plans. Moreover, web application development often includes a higher degree of end-user feedback, resulting in more specific requirements.
When it comes to testing procedures, web application development largely follows the same phases as traditional development. The overarching goal remains to determine if the application functions as intended and to pinpoint any necessary modifications to rectify its behavior. The key distinction lies in web applications relying on data that may exhibit a higher error rate, encompassing omissions, redundancies, and incorrect labels.
Additionally, web applications feature multiple layers and a greater variety of dynamic configurations, making the testing process more intricate, as each layer necessitates separate testing.
In contrast to software engineers, web developers frequently leverage reliable frameworks and code reuse to expedite the time-to-market, emphasizing efficiency in their development process.
Custom Software Development
In recent times, there has been a notable debate surrounding custom software development services versus commercial off-the-shelf (COTS) solutions. It's crucial to understand that custom software solutions encompass a range of applications, including content management, customer management, human resource management, and inventory management.
For businesses, particularly those led by non-tech-savvy owners, deciding between COTS or custom software can be a perplexing endeavor. This decision hinges on a comprehensive cost-benefit analysis. COTS solutions entail clear-cut costs, notably in the form of upfront licensing fees. Conversely, the costs and advantages of custom software development often carry an element of uncertainty.
In addition to cost considerations, the unpredictability of business conditions in today's world cannot be overlooked. For instance, relying on third-party support can become problematic if the supplier unexpectedly goes out of business. In contrast, custom software development offers the flexibility of in-house development or the option to outsource, provided that in-house development isn't feasible. In such cases, customers need to carefully assess the reputation and track record of potential outsourcing partners.
Mobile Application Development
The demand for mobile apps is undeniable in today's digital landscape. While individuals understand the importance of smartphones, it's not just us; the smartphone revolution has reshaped the entire narrative. In the realm of computing, we now enjoy a plethora of options. While desktops and laptops maintain their popularity, smartphones and tablets have emerged as optimal solutions for a wide range of everyday scenarios. They are intuitive, enjoyable devices ideally suited for web browsing and app usage.
When considering the development of a mobile app for your business, achieving success hinges on a thoughtful approach. It's not merely about recognizing the significance of mobile apps; it's about understanding their multifaceted benefits:
Enhancing Customer Value: Mobile apps empower you to deliver added value to your customers, making their interactions with your business more efficient and convenient.
Building a Strong Brand: They serve as a powerful platform for strengthening your brand identity, leaving a lasting imprint on your audience.
Efficient Customer Engagement: Mobile apps facilitate rapid and effortless communication with your customers, fostering stronger connections.
Fostering Customer Loyalty: By providing a seamless, user-friendly experience, mobile apps can help enhance customer loyalty, encouraging repeat business.
Personalized Marketing: Mobile apps establish a direct, personalized marketing channel, enabling tailored promotions and messages to individual users.
Elevating Customer Service: Mobile apps can elevate the quality of customer service, providing a more responsive and efficient means of addressing customer needs.
In essence, the potential for value creation through mobile app development knows virtually no bounds, offering businesses a dynamic tool to enhance their operations and elevate customer experiences.
Product Development
As the name implies, the services offered by a software company can guide you comprehensively, from the inception of an idea to the design, development, support, and maintenance stages. Some of the typical software product development services encompass:
– Prototyping and MVP Development
– Product Architecture Design Service
– UI/UX Design Service
– Product Development
– Product Testing
– Maintenance and Support
Product development spans across a multitude of industry verticals, including but not limited to Fintech and Insurance, education, energy and utilities, healthcare, media and entertainment, oil and gas mining, retail and eCommerce, travel and hospitality, and the list continues.
Testing and Deployment
Ultimately, quality takes precedence over quantity. Quality assurance or software testing is of paramount importance for the success of a software development company. It's vital to select a software development company that regards software testing as an integral part of the process, rather than an afterthought.
Software testing typically encompasses various levels, with unit, integration, and system testing being the most prevalent types. These tests are typically conducted at different stages within the Software Development Life Cycle, ensuring that the final product meets the highest quality standards.
Conclusion
In summary, a custom offshore software development companies provide an essential resource for businesses seeking to optimize their software development process. With the help of customized software development services, organizations can attain their strategic objectives while streamlining the entire project. From tailored software development to quality assurance and systems integration, there are numerous aspects to consider when developing software solutions. In case you have any doubts or queries feel free to contact our offshore development company and we provide a software development consulting services.