October 3, 2023
Posted by:

Jacky Melek

Categories:

Software Development, Website Development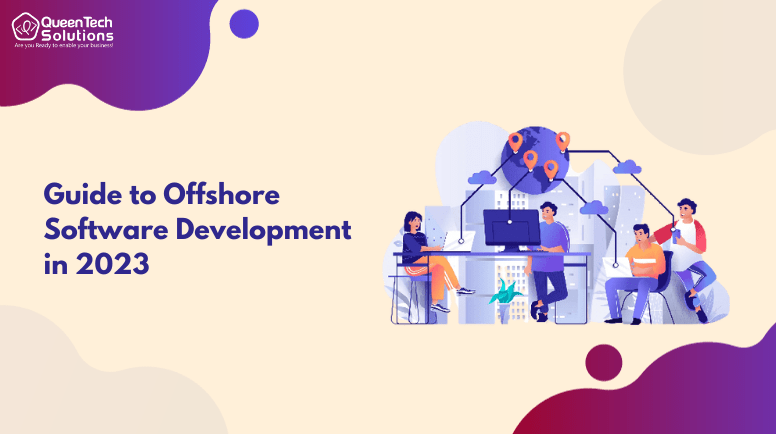 The transition from being a trendy choice to an absolute necessity for businesses, digitalization has resulted in an ever-increasing demand for IT services. Unfortunately, this heightened demand often leaves customers unable to locate a custom offshore software development services provider.
To address the gap between supply and demand in the IT service market, many businesses are turning to offshore software development. This approach offers numerous advantages, notably in terms of time, cost, and effort savings. Consequently, offshoring has become highly attractive not only to startups and small businesses but also to larger enterprises that prefer to hire dedicated software development teams from abroad rather than managing in-house departments.
In this article, we will define offshore company outsourcing for software development projects, highlight its potential benefits for your business, and provide guidance on avoiding common pitfalls when selecting the right offshore company and establishing a successful collaboration with them.
What are Custom Offshore Software Development Services?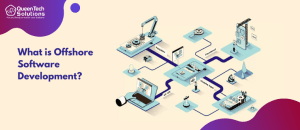 Offshore software development refers to the practice of a customer, whether it's a startup, a small to medium-sized business (SMB), or an enterprise, hiring a software development company located in a different part of the world. This outsourcing arrangement involves entrusting a project or task that requires software development services to a team situated in a different time zone.
The geographical distance between the customer and the hired development team is the key factor that distinguishes offshore, onshore, and nearshore software development. When there is a significant time zone difference, and the involved parties are situated on opposite sides of the globe, it falls under the category of offshore software development.
For instance, when a business in the USA engages a team based in India or Ukraine. Companies opt for offshore software development due to its numerous advantages, primarily the potential for substantial cost savings, but it also comes with specific challenges.
In cases where the geographical distance is substantial but the time zones align more closely, it is termed as a nearshore relationship. An example of this scenario is when a customer from Western Europe outsources work to a company in Eastern Europe. Nearshore software development typically offers some cost reduction but comes with fewer drawbacks compared to offshore arrangements.
Conversely, in onshore software development, the customer and the development team are located in roughly the same geographical area and share the same time zone. For instance, this commonly occurs when a client and an outsourcing software development company are situated in neighboring states.
The close proximity and minimal time difference make collaboration between these two parties almost seamless. However, the service costs are generally not as favorable as those provided by offshore software development companies. In general, the greater the distance between a customer and an IT service provider, the more significant the potential cost savings for the customer, without compromising the quality of services and the final product.
What Types of Services Can Be Outsourced?
Effective offshore programming company or offshore software development outsourcing relies on an IT services provider's ability to maintain high-quality work and establish efficient, regular communication with its clients. The key to success in outsourcing is the capacity for remotely located companies to engage in seamless collaboration and communication.
Consequently, with an experienced development team, virtually all software-related services become candidates for outsourcing. Let's take a look at the most commonly outsourced services.
Web Development Services:
Web development services, despite their complexity and challenges, are well-suited for outsourcing to offshore developers. A proficient team can efficiently deliver high-quality web applications at competitive rates, even in the face of potential inconveniences and obstacles arising from geographic distances.
In response to a customer's needs, many offshore software development firms are capable of undertaking the entire web development process or offering specific web development services. This often becomes necessary when a customer has already assembled a team but requires additional specialized expertise.
Mobile Development Services:
Mobile app development stands as another highly sought-after category of services in offshore software development. Comparable to web development, mobile software development demands a significant skill set, extensive experience, and efficient teamwork.
The widespread popularity of mobile applications and their critical contribution to enhancing various businesses represent an established contemporary trend. Consequently, numerous offshore software development outsourcing companies have specialized exclusively in delivering mobile development services. Much like in the case of web development, such firms have the capability to offer either comprehensive software development processes or specific services tailored to the creation of native or hybrid mobile applications.
UI/UX design services represent a valuable advantage of  custom offshore software development services outsourcing. Customers have the flexibility to decide whether they wish to entrust the entire development process to an offshore company or select specific phases. This allows customers to engage a team for a single specialized service or even hire an individual specialist for that specific purpose.
Finding skilled UI/UX designers, particularly within the IT industry, can be challenging. Their role becomes particularly crucial when an application needs to be adapted to various devices with varying screen resolutions and aspect ratios. Consequently, UI/UX services remain consistently in high demand among businesses seeking software solutions that boast both functional and visually appealing user interfaces.
Quality assurance plays a vital role in any software development endeavor. Software creators must ensure that every aspect, module, and component functions as intended across various scenarios. Given that comprehensive testing can be a time-consuming and exhaustive process, it is often outsourced to a specialized team of experts. This approach allows the primary development team to focus on other tasks, ultimately expediting project completion.
Alternatively, a dual testing team approach may be employed, with two teams working in parallel to cover a wider range of platforms and usage scenarios for a prospective software product. This method necessitates greater coordination and is commonly utilized, especially for expediting cross-platform or hybrid mobile development. One team may focus on ensuring quality and performance on Android devices, while the other tackles the same tasks for iOS devices.
Customer Support Services
Customer support services are widely recognized for being outsourced to offshore companies, a practice embraced even by major enterprises. The substantial demand has led certain countries to specialize their IT industries in providing such services, resulting in the establishment of numerous call centers and the requisite infrastructure. This dynamic delivers significant cost savings for enterprises while offshore customer support service providers in other countries enjoy profitable outcomes.
It's important to acknowledge that numerous other software-related services, such as IT consulting and post-release product maintenance, can likewise be effectively outsourced. Offshore software outsourcing stands as a mutually beneficial arrangement for both customers and IT service providers, often contributing positively to the economies of many countries.
Offshore Software Development Process
The custom offshore software development services process closely mirrors its nearshore and onshore counterparts in the IT industry. It encompasses the same stages and follows similar routines, including requirement gathering and analysis, architectural design, coding and implementation, security and quality assurance, deployment, post-release maintenance, and more.
Much like in-house teams, offshore developers work full-time, prepare project documentation, and maintain regular communication with clients. The primary distinguishing feature of an offshore process is the remote nature of cooperation, which presents unique challenges.
In light of this, there are several steps to consider in order to address these challenges before selecting a suitable offshore software development company:
Understand Your Needs: Given that effective communication is a critical challenge in offshore collaboration, it's essential to have a clear understanding of your business requirements and articulate them clearly. Identify your business problems and how software can address them. This clarity will enable offshore developers to quickly grasp your goals and specifications.
Define Your Goals and Timelines: Market analysis to identify your target audience and the optimal software release timing is crucial. This information will be invaluable during your future interactions with potential development teams, particularly when discussing project timelines.
Stay Informed: Staying updated on IT industry developments, popular technologies, and emerging trends is vital. Familiarity with relevant terminology and trends will facilitate effective communication with the development team.
Research and Evaluate Candidates: Prior to settling on a development team, conduct thorough research. Assess their expertise in your industry and technology, review their portfolio (including case studies), consider feedback from previous clients, and take into account factors such as company size. Given the remote nature of the collaboration, it's important to have full confidence in your chosen candidate.
Prepare Documentation: Capture your vision in detail, documenting your ideas comprehensively. Include all specifications and requirements for your future software. This documentation will provide a foundation for discussing your concept with the offshore company. It's worth noting that making changes to requirements after the development process begins can be challenging and potentially costly.
Offshore Software Development Cost
The cost associated with best offshore software development countries depending on the geographical location of the service provider. It is also influenced by the complexity of your project, as this complexity determines the number, type, and skill level of specialists required, as well as the scope of services provided.
The overall cost includes various services such as staff training, project management, design and planning, coding, quality assurance, post-release support, and more. It's important to note that this list is not exhaustive, and your project may entail additional services and associated costs.
Below are the top 8 countries known for custom offshore software development services and IT project outsourcing:
– Philippines.
– Ukraine.
– Poland.
– Romania.
– Argentina.
– Bulgaria.
– China.
– India.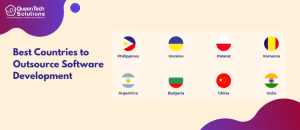 Software Development Billing Rates in Different Countries
These price ranges are derived from data gathered from various online platforms, including Clutch, GoodFirms, PayScale, Upwork, Indeed, and others. While they provide a general overview, it's important to note that they may not be entirely precise. Therefore, it's advisable to engage in direct discussions with each IT company to ascertain the specific costs associated with offshore software development outsourcing for your project.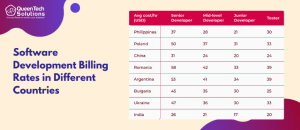 Benefits of Offshore Software Development
Cost-Effective Solutions:
Opting for an offshore software development service provider can yield cost-effective solutions, potentially leading to savings of up to 30% of your overall expenses. This includes reductions in recruitment costs, salaries, and other related expenditures. In contrast to the expenses associated with hiring and training in-house specialists, offshore development also alleviates the need for investments in licensed software and hardware, as these costs are typically managed by the offshore developers.
Notably, financial responsibilities such as staff training, paid vacations, sick leaves, and similar considerations are alleviated when collaborating with offshore software development companies.
Attention to Core Activities:
One of the most significant advantages of hiring an offshore development team that includes a project manager is the ability for a company's management to concentrate on core activities. This encompasses tasks like strategic planning, executing a robust business strategy, seeking additional investments, and more, as the technical aspects of product development are effectively managed by the development team.
When you employ a team with a project manager, you can expect regular updates on project progress, challenges, and other essential information that you need to stay informed about.
One of the standout advantages of collaborating with an offshore development vendor is the flexibility to assemble a scalable team for your project. This means you can onboard a sizable team to initiate your business product from the ground up, without the obligation of maintaining the entire team long-term. Once the phases of product design, development, and testing are complete, you have the freedom to downsize the project team, retaining only the necessary technical specialists for ongoing product maintenance and support.
Moreover, in the future, should you require upgrades or alterations to your product, you can easily rehire the needed specialists. Offshore software development companies typically offer various collaboration models, including dedicated teams, fixed pricing, time and materials, and more, to accommodate your specific project requirements.
Access to a Larger Talent Pool with Bigger Expertise:
Compared to seeking tech specialists independently, partnering with an offshore software development company offers significant time and resource savings. These companies possess a keen understanding of how to differentiate between top-tier specialists and mediocre ones and possess the knowledge of where to locate them. Opting for a company that provides offshore software development services provides access to an extensive talent pool comprising tech experts proficient in both cutting-edge and well-established technologies.
Having a team of specialists with extensive and robust expertise is precisely what sets your product apart in the market and positions your business ahead of competitors.
Beyond their cost-efficiency, offshore firms possess the essential resources for expediting the development and launch of your software product. This acceleration allows you to promptly gather feedback from initial clients or showcase a fully operational MVP (Minimum Viable Product) or a finished product to potential investors.
Time holds significant value in the business world. The longer you allocate to the creation and testing of your product, the greater the risk that another entity may introduce a similar product and capture a portion of the customer base that could have been yours.
While there's a prevailing belief that in-house specialists may be more motivated to deliver top-quality results, it's important to recognize that offshore software development teams are equally motivated to provide their clients with the best possible outcomes and a positive collaboration experience. This motivation arises from the intense competition within the IT market.
Advantages of Offshore Software Development from Queen Tech Solutions
Choosing Queen Tech Solutions (QTS) as your offshore software development company provides numerous advantages for you and your business. With over 15 years of experience in the IT industry and a track record of delivering more than 600 projects to global businesses, here's what we offer to our clients:
Expertise Across Multiple Industries: We bring expertise in diverse industries, including fintech, healthcare, construction, logistics, and more.

Excellent Communication Skills: We prioritize great communication skills to facilitate smooth collaboration.

Convenient Time-Zone Compatibility: There are no difficulties related to time-zone differences, ensuring efficient coordination.

Budget-Friendly Solutions: We offer solutions that align with your budget, making quality software development accessible.

Extensive Technology Expertise: Our talent pool boasts extensive technology expertise, ensuring you have access to a wide range of skills.

Positive Client Feedback: We have earned positive feedback from our clients, with a 4.9 rating on Clutch and a 5 rating on Business of Apps.

Diversity and Inclusion: We pride ourselves on diversity, with 27% of our team members being females.

Partnering with QTS empowers your business with a wealth of experience and expertise, ensuring successful offshore software development projects.
Conclusion
In an era marked by technological advancements, the choice of offshore software development offers companies of all sizes a multitude of benefits. While in-house teams, onshoring, and nearshoring each have their merits and drawbacks, the advantages of  custom offshore software development services are compelling and can lead to significant savings in terms of time, money, and critical resources.
Queen Tech Solutions is a company that has been at the forefront of providing offshore software development services for over a decade. Our expertise transcends company size and industry boundaries. We deliver top-notch services to businesses spanning from startups and scaleups to Fortune 500 enterprises.
Furthermore, our industry coverage is extensive, with specialized knowledge in sectors such as fintech, insurance, healthcare, dental, construction, logistics, eCommerce, and many more. To gain deeper insights into our work, we invite you to explore our most notable Case Studies.
If you wish to delve further into our expertise and discover the tailored solutions we can offer to benefit your business, please don't hesitate to reach out. Let us assist you in attaining your business objectives with our extensive knowledge, latest models and consulting in offshore development.