August 13, 2023
Posted by:

jacky melek

Categories:

Software, Website Development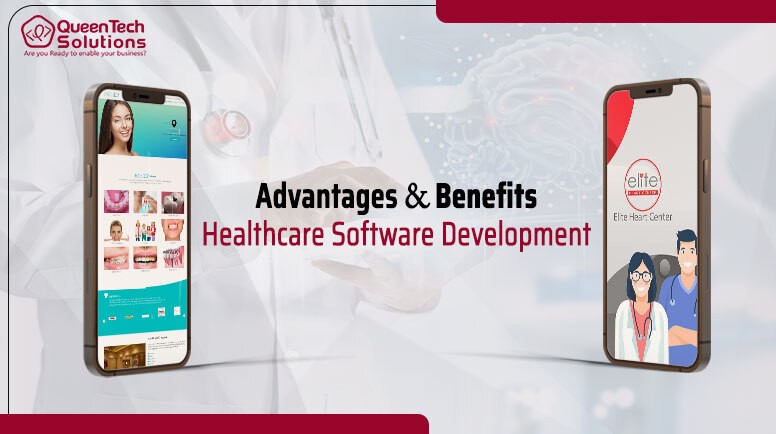 What are healthcare software development services?
Healthcare software services refers to the process of designing, creating, deploying, and maintaining software apps for the healthcare sector.
These healthcare software solutions aim to address specific needs of healthcare providers, patients, administrators, and other stakeholders in the health ecosystem.
The ultimate goal is often to enhance the quality of care, streamline operations, maintain compliance and improve patient outcomes.
What are some common types of custom healthcare software development?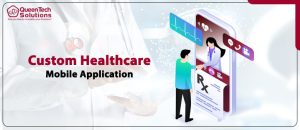 Some key aspects and categories of mobile health care software development include:
Electronic Health Records (EHRs) are digital renditions of patient charts. These systems present real-time, patient-focused data, ensuring immediate and secure access to information for approved individuals.
Medical Imaging Systems: Software related to the capture, storage, and analysis of medical images like MRIs, X-rays, and ultrasounds.
Telemedicine Platforms: Allow doctors and patients to communicate in real-time through video conferencing, enabling remote diagnosis and treatment.
Clinical Decision Support Systems: These offer clinicians patient-specific assessments or recommendations to aid decision-making.
mHealth Applications: medical app development that help in patient monitoring, health tracking, medication reminders, etc.
Patient Portals: Online platforms that enable patients to access their medical records, book appointments, and communicate with healthcare providers.
Pharmacy Management Systems: Help pharmacies with inventory management, drug interactions, and billing.
What are the Stages of custom healthcare

app development

?
The development of a healthcare application, like other software development projects, involves several stages to ensure functionality, security, and compliance. Here are the stages of healthcare service for application development:
Idea Generation and Analysis:
– Identify the need or problem to be addressed.
– Determine the scope and potential features of the application.
Planning:
– Define the project's objectives, timeline, and budget.
– Assemble the development team.
Design:
– Develop the user interface (UI) and user experience (UX) design.
– Create wireframes or mockups.
– Plan the system's architecture.
Development:
– Write the code for the application.
– Ensure adherence to healthcare regulations and standards, like HIPAA or GDPR.
– Integrate necessary APIs and third-party tools.
Testing:
– Conduct unit, integration, system, and user acceptance testing.
– Identify and fix bugs.
– Validate compliance with healthcare standards and security requirements.
Deployment:
– Launch the application to a server or cloud platform.
– Make it available to end-users (e.g., through app stores).
Maintenance and Support:
– Monitor the application for issues.
– Release updates and patches.
– Collect user feedback and make necessary improvements.
What are the benefits of healthcare software?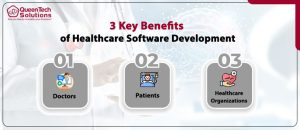 For Doctors:
Less paperwork.
Easy team talk.
Quick patient care.
Make decisions fast.
Fewer medicine mistakes.
New study access.
Remote patient chats.
For Patients:
Better care.
Easy talk with doctors.
Quick health info access.
Tailored treatments.
Increase patient engagement.
Safe personal patient data.
Doctor chats from home.
For Healthcare Organizations:
Better workflow.
Happy patients.
Less admin work.
Use medical data well.
Smart resource use.
Easy billing.
Stay in rules.
Why is medical software important?
Medical software is crucial because it helps doctors and patients in various ways. When you compare different EMR software systems, it's important to understand what they can do. Here are some common things they can do:
Charting: Make digital charts quickly. Put all patient information together in one chart. You can use templates to choose what details you want.
E-prescribing: Send prescriptions to pharmacies electronically. Get automatic alerts about medicine interactions. You'll also receive important info about dosage, allergies, and medications.
Patient portal: Let patients log in and see their medical info. This includes how many times they've visited the doctor, their medication history, and test results. It encourages patients to take control of their health.
Order entry: Input, store, and send lab tests, medication orders, and other services.
Decision support: Get automated alerts, reminders, or advice about treatments. This advice is tailored to each patient's specific conditions and characteristics.
QTS is the leading Healthcare Mobile App Development
In the rapidly evolving digital landscape, the healthcare professionals sector demands intuitive, secure, and efficient solutions. At QTS Software, we don't just offer app development; we provide a legacy built on years of dedicated experience in the healthcare field.
Our healthcare software developers are engaged in various cutting-edge technologies, including:
Artificial Intelligence (AI): Our team harnesses the power of AI to enable healthcare organizations to replicate human-like thinking when dealing with intricate medical data. This involves advanced analysis, comprehension, and interpretation of complex healthcare information.
Machine Learning (ML): Through ML, we are able to process extensive datasets that surpass human capacity, transforming data analysis into valuable clinical insights. These insights contribute to improved patient care and reduced healthcare costs.
Why Choose QTS for Healthcare App Development?
When you pick QTS as your partner for making healthcare software, here's what we promise:
Keeping Your Ideas Safe: We'll make sure your unique ideas stay private and protected.
Keeping Your App Safe: Your app's safety is important to us, so we'll take good care of it and the information it holds.
Great Value: You'll get real worth for the money you spend – solutions that fit your budget and do what you need.
No Culture Barriers: We're good at getting past any cultural differences, so working together will be smooth.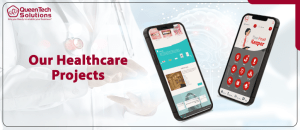 Give us a call today, and we'll show you how we can create the perfect healthcare software services just for you.
Check our portfolio in healthcare industry: Elite Smile, D Care and Paradise.