November 2, 2023
Posted by:

Jacky Melek

Categories:

Web Design & Development, Software Development, Website Development, Digital Marketing, UI/UX App Design, Search Engine Optimization (SEO)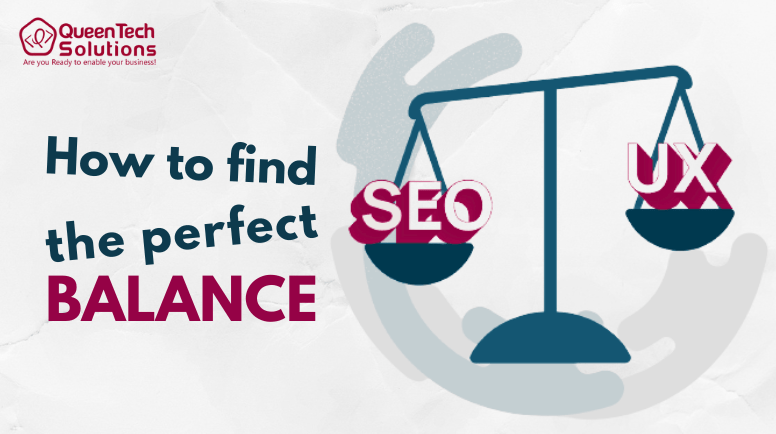 Having a solid search engie optimization (SEO) plan can enhance your Google rankings and draw more visitors to your site. But driving traffic is just one part of the equation. Various elements influence whether these visitors convert into customers, such as their ease of finding information and navigating your site.
Imagine your SEO strategy succeeds in bringing users to your site, only for them to encounter a slow, messy, and poorly-designed website. If they can't easily locate what they're seeking, they might leave and choose a competitor's site instead. In this scenario, your SEO efforts go to waste.
That's why aspects like user experience (UX) are equally vital as SEO. Striking the right balance between the two is crucial to enhancing website performance. In this article, we'll explore how to optimize both SEO and User Experience to enhance customer experience and achieve your goals. We'll delve into:
What Is SEO?
Search engine optimization (SEO) is a digital marketing tactic that revolves around enhancing different parts of your website for search engines. These search engines, such as Google and Bing, assess various elements of your website and others, using an algorithm to determine which site best matches a particular keyword search. This process helps them display the most relevant results to users.
When someone uses a search engine to look for information or a product, the search engine algorithms work out which website is most suitable for that user's query. These well-matched websites are then displayed at the top of the search engine results pages (SERPs). If your website ranks high on these relevant SERPs, there's a greater likelihood that the user will visit your site.
In summary, SEO enhances your presence on search engines, driving users to your website. Working with an SEO content writing company and optimizing your website can provide added benefits, including establishing topical authority and persuading users at various stages of their buyer's journey to convert. Nevertheless, the primary objective of an SEO strategy is to enhance search results and attract users to your website.
What Is UX Design?
User experience (UX) refers to a design process that considers the aesthetics and functionality of a website in relation to how users navigate it. While some may think it only concerns the work of web design companies, UX encompasses more than just web design. It includes the interface, web development, information structure, and the overall experience that users have while interacting with a website.
A website's visual appeal might be impressive, but its performance could pose challenges for users. Similarly, a website could offer high-quality content and valuable information, yet its design might hinder users' trust in its credibility or even make it difficult to find the desired page. Furthermore, a website may excel in both visual appeal and navigation, but if it loads slowly, many users, increasingly impatient due to improved internet access, might choose to click away.
When executed effectively, UX design can enhance customer experience and positively impact your business's profitability. A well-designed website should embody the following qualities to ensure a good UX:
Useful: Providing content that meets the users' needs.

Usable: Ensuring the website is easy to navigate and use intuitively.

Desirable: Reflecting your brand's identity or associated aesthetics in the website design.

Findable: Enabling users to locate information with minimal effort and clicks.

Accessible: Ensuring that all users can easily access your content, considering factors like loading speeds, font styles, and font sizes.

Credible: Establishing a trustworthy appearance and functionality to instill user confidence in your brand and content.
How Does UX Impact SEO?
The relationship between seo and user experience is crucial in understanding the impact of these two components on your overall digital marketing strategy. It's essential to recognize that SEO strategies and UX design can sometimes conflict, as certain optimization techniques may have a negative impact on user experience.
With the increasing accessibility of the internet through mobile devices and data, users expect quick and clear access to information. When users visit your website, they anticipate finding what they need immediately. If they encounter a slow website that makes it challenging to locate desired information, they are likely to navigate away to find other options, undermining the efforts of an SEO-focused digital marketing strategy.
This scenario raises the question: What's the point of an effective SEO strategy if it leads users to a poorly-designed website that hinders their ability to convert?
Furthermore, this issue underscores how UX design impacts SEO. A high bounce rate, resulting from users quickly leaving your site, signals to search engines that users didn't find relevant information based on their search query. Consequently, search engines may interpret this as your website being irrelevant for that particular keyword, potentially leading to a drop in search engine results pages (SERPs) ranking.
This example illustrates how user experience profoundly influences SEO. While SEO attracts more users to your website, it's the UX that ultimately converts these users. Achieving the right balance to optimize both elements is crucial in leveraging the impact of user experience on SEO.
Focusing solely on one aspect may impede your website's growth, conversions, and the effectiveness of other SEO best practices you've implemented.
Write:
The importance of user experience in software developemnt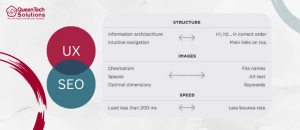 How To Leverage The Benefits Of  SEO and User Experience Combined?
Balancing SEO best practices, which drive traffic to your website, with UX best practices that enhance website navigation is crucial for creating a beneficial online presence for your business. Collaborating with an SEO specialist and web design company can help achieve this equilibrium.
Overemphasizing SEO can potentially dissuade users due to a negative website experience. Conversely, prioritizing website design may compromise optimization, leading to lower search engine rankings.
The Demand Generation team emphasized, "While SEO is essential for generating organic traffic, providing a seamless and user-friendly experience is more critical for retaining visitors, boosting conversions, and establishing a positive brand reputation. However, finding a balance between the two is the ideal approach."
Not all SEO and UX best practices are mutually exclusive. In reality, certain UX improvements can positively impact your SEO strategy for web developemnt, particularly considering the regular algorithm updates from search engines like Google. Here are some UX and SEO best practices worth considering for implementation on your website.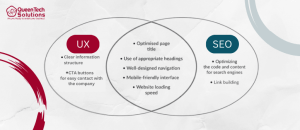 1. Work with Full-Service Digital Marketing Agencies for seo and user experience Services
While there may be initial cost-saving benefits to procuring various services from different digital marketing professionals, this approach can lead to complications arising from conflicting strategies. For example, the techniques employed by an SEO content writing company might not align with those of a web design company.
Opting for a single, dependable source for your digital marketing services offers more substantial advantages. By consolidating your SEO content writing services and web design services under one roof, you can have multiple teams collaborating harmoniously to create strategies that complement each other. In this setup, your SEO content writing company functions as a team of writers dedicated to building your SEO strategy and attracting relevant users to your website. Simultaneously, the web development team provides services such as website hosting or web design services, optimizing your website for enhanced user experience.
2. Optimize for Responsive Web Design
In the past, most users primarily accessed the internet through desktop computers. However, the current trend shows a significant shift towards mobile devices such as smartphones, laptops, and tablets, surpassing the use of traditional desktops. Consequently, it's imperative that your website maintains an appealing appearance and seamless navigation, regardless of the device's size and dimensions. Google advocates for the use of responsive web design, to the extent that it practices mobile-first indexing, believed to enhance rankings on search engine results pages (SERPs).
Responsive web design is considered one of the key UX best practices because it enables your website to adapt to various devices without compromising navigation. If a user is browsing on a smaller screen, the layout adjusts to facilitate easier reading, while ensuring essential elements such as call-to-action buttons remain accessible.
3. Simplify Your Navigation Design
When search engine results pages (SERPs) display your website's specific service or product page instead of directing users to your homepage, it significantly simplifies the user experience. However, if users are redirected to the homepage without the specific page shown, they must navigate through your site to find what they need. Ideally, your website should be designed to enable users to locate their desired information and proceed to the checkout or contact page with minimal clicks.
Effectively utilizing drop-down menus, bullet points, headers, and imagery can aid users in finding what they're looking for. Some of the best UX practices include:
Implementing meaningful heading tags to assist users in skimming through content.

Incorporating bullet points for menus and product lists, ensuring logically ordered information.

Opting for sans-serif fonts, as they provide a cleaner appearance and reduce clutter on each page.

Breaking down content into smaller, easily digestible sections. Avoiding excessive content is beneficial; conveying ideas succinctly is preferable.
Let QTS Combine UX And SEO To Improve Website Performance
QTS software company and digital marketing agency is dedicated to combining UX and SEO to enhance website performance. By striking the perfect balance between these two essential elements, they aim to maximize the potential of every user visiting your website.
Their comprehensive range of services includes SEO content writing, web design, and other crucial components necessary for building a robust digital marketing strategy. QTS Agency operates as a full-service offshore software development company, providing various teams that collaborate seamlessly to ensure every aspect of your strategy is covered, preventing any conflicts that might hinder your website's success. Their objective is to optimize website performance and attract relevant users to your site.
Contact QTS company today to explore our offerings and receive a complimentary proposal tailored to your needs.