November 9, 2023
Posted by:

Jacky Melek

Categories:

Software Development, Website Development, Digital Marketing, UI/UX App Design, Search Engine Optimization (SEO)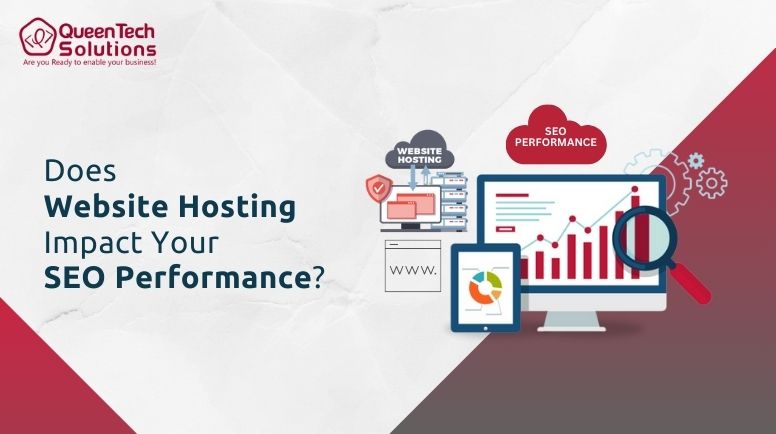 Having a great seo friendly web hosting can really help your site's position on search engines. The right hosting can make your site faster, improve how people use it, and that can make it rank higher in searches.
In this post, we'll look at how your hosting can affect how well your site does in search results.
Our blogs also answer these questions:
How To Find The Balance Between SEO and User Experience ?
Web Development Vs SEO: Who Leads?
The Importance of User Experience in Software Development
What Is Website Hosting?
Website hosting means using services that let businesses and digital marketers save their important files (like images, code, and scripts) and put their websites online. Hosting companies rent out space on their computers for this.
Basically, hosting is like managing your website files on a computer that lets people see them. When someone visits your site, their browser downloads your files and shows your site as you made it.
Web servers, which are strong computers, make this happen. They connect web users to your site. Your hosting service includes space for your files, making sure they're safe, and other services you need to put and keep your site online.
So, it's no surprise that the best website hosting can really help your SEO strategy and how well you do online.
How Poor Website Hosting Can Impact Your SEO Performance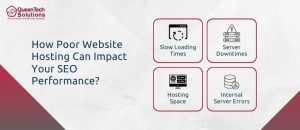 Certainly! Let's explore the potential adverse effects of poor hosting on user experience (UX) and consequently on your SEO efforts:
1. Slow Loading Times: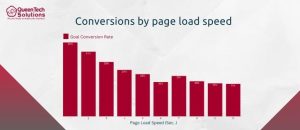 Website speed indicates how quickly or slowly your site pages load in web browsers. Cheaper hosting solutions often come with low bandwidth, leading to increased page loading times. This delay can frustrate users, prompting them to leave your page, which tells Google that your site isn't valuable enough to rank.
Sometimes, this lag can occur when servers host too many websites. The top website hosting companies typically avoid hosting too many sites on one server.
To avoid lags, consider using static website hosting or self-hosting. Note that these options are best suited for smaller websites with fewer than five pages.
2. Server Downtimes:
Having your website offline or unavailable is even more detrimental than a slow site. Picture one of your customers visiting your eCommerce store to make an important purchase, only to find that it's temporarily inaccessible, unable to cater to their needs when they require it.
This failure to serve customers not only raises your website's bounce rate (the percentage of users leaving your site after visiting one page) but also results in the loss of potential customers and sales opportunities. Moreover, significant downtimes can cause your Google ranking to plummet.
3. Shared Hosting with Unreliable Co-Owners:
While the top website hosting companies screen clients for reliability, low-cost providers may not be as selective. Opting for shared hosting or hosting multiple websites on a single server compromises hosting quality and your site's security.
Shared hosting poses two significant risks: firstly, it increases the likelihood of data theft or loss since you might be sharing the server with untrustworthy sites. Secondly, it diminishes your ranking and authority, along with compromising site speed and reliability.
Consequently, Google tends to prioritize websites hosted on reliable, dedicated servers. It's best to avoid this cost-cutting practice to safeguard your site's reputation and security.
4. Frequent Internal Server Errors: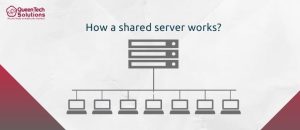 When an internal server error occurs, web browsers struggle to access your site's files, indicating database connection issues. This typically happens when your site's content becomes viral, resulting in a surge of people trying to access your content, overwhelming your hosting provider's capacity to handle the large volume of connection requests.
Google takes note of frequent database connection errors and considers your site unreliable, leading to a significant drop in your ranking.
The bottom line: Reduced user experience leads to decreased profits.
It's crucial to remember that the Page Experience includes signals and metrics from previous updates. When choosing website building and hosting services, ensure that factors such as mobile-friendliness, Core Web Vitals, and Secure Sockets Layer (SSL) certification are all in order to provide a seamless user experience and maintain a strong seo friendly web hosting.
Features Of The Best Website Hosting For Your Business
Certainly, finding the best website hosting is crucial for entrepreneurs and digital marketers aiming to meet their business objectives and drive growth. Here are some key factors to consider when selecting the optimal website building and hosting services:
Assured Uptime:All Small business website hosting providers often promise a 99 percent uptime, indicating the percentage of time your site is accessible to visitors. While this figure may sound impressive, it's essential to understand what a 99 percent uptime truly means:• Potential daily downtime: Approximately 14 minutes and 24 seconds
• Anticipated weekly downtime: 1 hour, 40 minutes, and 48 seconds
• Estimated monthly downtime: 6 hours, 43 minutes, and 12 seconds
• Projected yearly downtime: Three days, 15 hours, 21 minutes, and 36 secondsIt's crucial to remain cautious of this guarantee, particularly when managing an eCommerce website. However, it's also important not to place immediate trust in website hosting services that promise 100 percent uptime, as some downtime is inevitable due to the nature of server maintenance and potential technical issues.
Faster Page Loading:
To improve your site's loading speed, consider different hosting options available. Some providers offer specialized hosting services tailored to WordPress websites, while others leverage the capabilities of Amazon Web Services (AWS) or Google hosting services, each equipped with features designed to enhance loading times.Additionally, check the server location. Opting for servers closer to your target market can significantly accelerate website loading speeds. Look for a content delivery network (CDN) among your provider's services, as this can effectively boost speed and overall performance.
Highly Responsive Support Team:
The key isn't to avoid hosting problems altogether, but to have the capability to resolve issues swiftly. A highly responsive support team, available 24/7, enables hosting solution providers to address your concerns promptly.
Diverse Service Options:
Hosting plans frequently offer an array of options, including automatic backups, free SSL certificates, SEO tools, and various hosting plans. These should not be considered add-ons or extras but rather essential components for enhancing your site's user experience (UX) and performance, and consequently, its search engine rankings.
What's The Best Option For Small Business Website Hosting?
For small businesses, it's important to find scalable hosting solutions that align with their current requirements and can accommodate future growth. The option chosen should also be budget-friendly and contribute to improving performance through search engine optimization services.
Consider the following options:
• Google Website Hosting.
• AWS Website Hosting.
• WordPress Website Hosting.
Google Website Hosting:
Since 2017, Google has offered a free website for users who sign up for a Google My Business (formerly known as Google Business Profile) account. The interface for Google's hosting solutions is user-friendly, reminiscent of the original Google Sites. This option is suitable for those interested in self-hosting or starting with static website hosting.
Pros:
Free hosting service
Seamless integration with various Google services
Cloud-based infrastructure ensures reliable performance
Simple and fast page editor for easy website management
Ideal for individuals with no prior website building experience
Cons:
Limited design customization options
Limited suitability for eCommerce functionality
Inability to access and edit source code directly, limiting advanced customization possibilities.
Amazon has made significant progress in the web hosting industry in recent years. AWS (Amazon Web Services) is now utilized by over 5,000 educational institutions and 2,000 government agencies, making it a popular choice for small and medium-sized enterprises.
Pros:
User-friendly interface.
Scalable server capacity with no apparent limits.
Robust encryption and security features.
Flexible payment options suited to different business needs.
Cloud-based hosting ensures reliability and accessibility.
Cons:
Resource availability is restricted based on geographical regions.
Billing procedures can be complex and confusing.
Potential risk of data leaks or security breaches, demanding rigorous precautionary measures.
Several SEO web hosting marketing company provides managed WordPress hosting, which has gained popularity for being streamlined, user-friendly or seo friendly web hosting, SEO-focused, and highly secure.
Pros:
Servers are specifically optimized for WordPress, ensuring efficient performance
Easy to use and versatile, suitable for a range of website types
Simplified user panel for convenient management
Comprehensive management of all hosting requirements
Enhanced security measures for protecting your website and data
Cons:
Lack of built-in email solutions, necessitating the use of separate email hosting services.
Custom Hosting Solutions Tailored to Your Needs:
Recognizing the distinctiveness of every company, it's essential that your small business website hosting solutions are specifically crafted to align with your unique requirements. QTS stands out as one of the leading SEO web hosting companies in Egypt and the U.S., leveraging over 17 years of experience catering to businesses of various scales.
Our seo agency in Egypt comprehensive approach to dependable site hosting encompasses web design, content creation, and personalized web development services If you require assistance in determining the best web hosting option for your business, please feel free to contact us ou software consulting company directly or fill out our online form.