February 11, 2022
Posted by:

Heba Farid

Categories:

Digital Marketing, Social Media Marketing & Advertising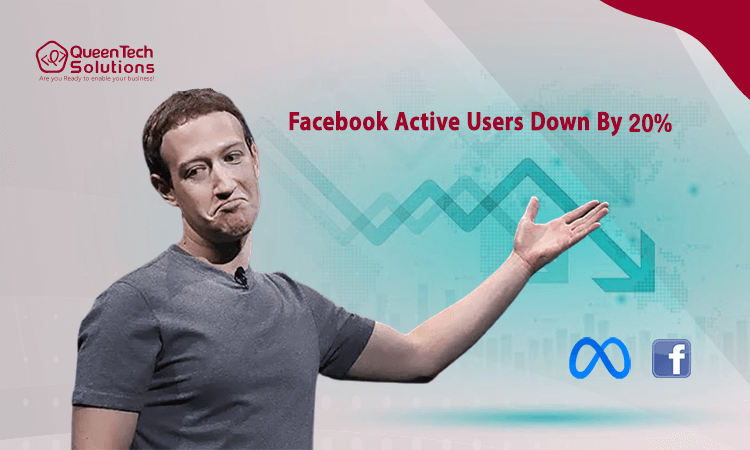 Meta – the owner company of Facebook, Instagram, WhatsApp, Messenger, Oculus, World Horizons and more…-
Has witnessed its stock market value slump by more than $ 230 Billion Dollars (£169bn) last Thursday. The biggest single-day slide in market value for a U.S. company.
Meta shares fell by 26.4%, after quarterly figures disappointed investors.
Facebook parent Meta Platforms shares drop by 24%, the most ever obviously. It has lost about 230 billion dollars in market value in the past hour or so, which is significantly more than the value of all goods and services that Greece produces in a year. https://t.co/3O8ckKXLHE pic.twitter.com/GmyfcoOdaX

— Nikos Chrysoloras (@nchrysoloras) February 3, 2022
For the first time in its 18-year history, Facebook active users dropped….
The most worrying fact shown is that Facebook's daily active users (DAUs), had dropped for the first time in its 18-year history.
Meta has warned all investors of slowing revenue growth because of the rough competition from TikTok and YouTube.
Meta's stock shares slumped by over 20% in after-hours trading in New-York.
The dropping in Meta shares' prices wiped about $ 200 Billion Dollars (£147.5 Billion) of the company's stock market value.
The market shares in some other social media platforms, including Twitter, Snap Chat & Pinterest, also fell sharply in trading.
While other Social Media Platforms are recording extremely high rates, including TikTok, YouTube & LinkedIn.
Meta's Owner & Chief executive Mark Zuckerberg said:

"Facebook & Instagram sales growth had dropped because audiences, especially the younger users, are leaving for rival platforms."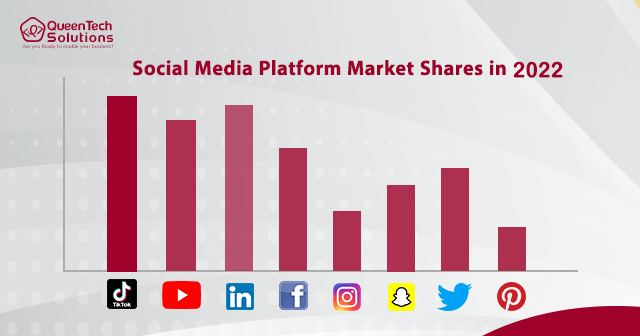 The drop also reached the broader technology sector, and dragged the Nasdaq Index (.IXIC) lower. 
It was the biggest slide in market value for a U.S. public company, according to Reuters.
And it's marked as the company's worst one-day loss since its Wall Street debut in 2012.
 Laura Hoy, an equity analyst at Hargreaves Lansdown, said:
"Mark Zuckerberg may be keen to coax the world into an alternate reality, but disappointing fourth-quarter results were quick to burst his metaverse bubble."
Mark earlier announced forecasted this drop in Facebook:
As Mark earlier announced that Facebook and Instagram had been affected by the privacy changes of Apple's operating systems. These changes made it harder for brands to target and measure their advertising on the platforms.
And this sure has a great impact in the market share loss, "in the order of $10 billion Dollars", according to Meta's chief financial officer Dave Wehner.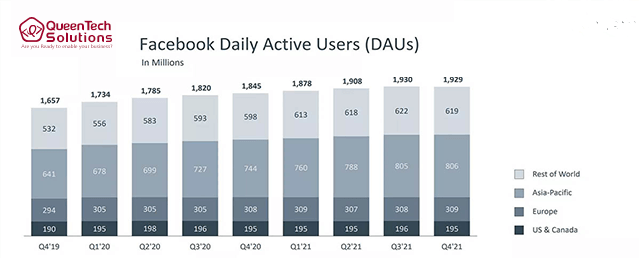 But in some ways it seems that all these struggles, are just a temporary thing or a fast trend, and soon every thing will be back to its normal as it used to be for years.
As some portfolio managers saw a reason and great chance to buy Metas' shares in this drop.
David Jeffress, portfolio manager at Laffer Tengler Investments, said on Thursday:
" The firm is looking to add to its stake in Meta as the stock declines. Jeffress pointed to strong or increasing numbers Meta reported for user engagement, advertising and revenue per user"
"The results, taken in their entirety, were okay. It was the guidance that spooked people"
Jeffress said.
He called the trading declines "an overreaction."
Mark Zuckerberg's personal net worth to fall by $31bn:
The slide in Meta and Facebook share price, caused Mark Zuckerberg's personal net worth to fall by $31 Billion Dollars, according to the Bloomberg Billionaires Index.
This drop in Mark Zuckerberg's personal fortune these days is equivalent to the annual gross domestic product of Estonia Country.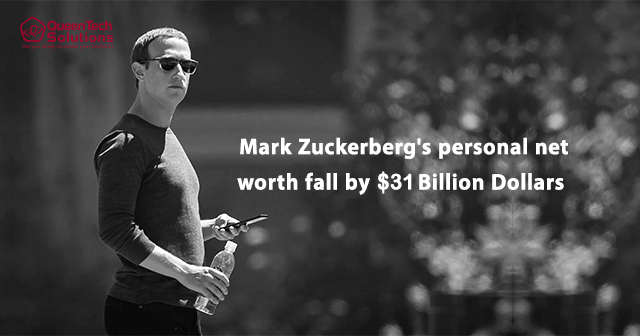 Meta forecasting revenues of $27 Billion Dollars to $29 Billion Dollars, for the first quarter of this year. – A lot Lower than analysts had expected.-
Facebook Still Didn't Lose Hope!
Despite the current situations, Facebook has been making huge investments in video services.
Trying to compete with TikTok, owned by Chinese technology giant ByteDance, it makes less money from those offerings than its traditional Facebook and Instagram feeds.
No, Wonder TikTok has Wiped all competition, and reserved the spot of "The most Visited site" overcoming "Google" itself.
Read more about TikTok Big Jump in 2021, to become the number one social app.
What is your opinion, is the drop in Facebook a temporary phase or a trend and soon it will restore its' position, or it is a one way lane for the leading Social App since 90's?