December 2, 2021
Posted by:

Heba Farid

Categories:

Website Development, Web Design & Development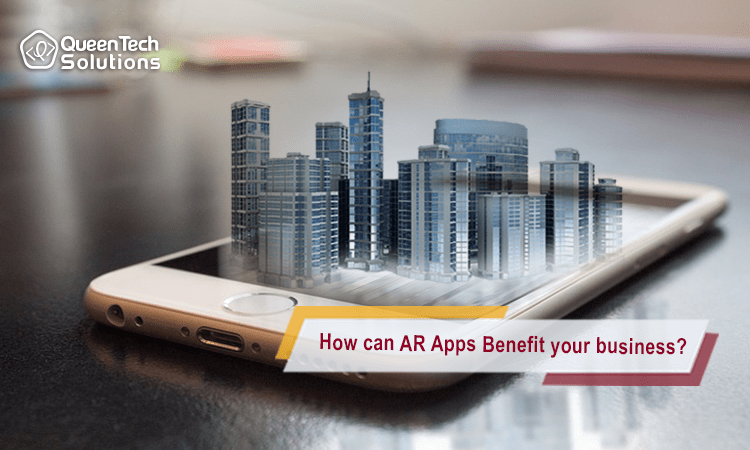 Augmented Reality Application Development
What Is Augmented Reality Application development?
First, What is AR Application?
Augmented Reality is breaking through the next-gen digital technology revolution.
AR is a combination of real world images with computer-generated images, and you can define it as a system that incorporates three main features:
A combination of real and virtual world, real-time interaction, and detailed 3D registration of virtual and real objects.
Also, due to its potentials and impacts, Augmented reality "AR" is incorporated into all business aspects including healthcare, retail, traveling and tourism, education, real estate, and much more…..
In this article, we will highlight the key benefits of Augmented Reality apps, and how this technology can be used to benefit your business.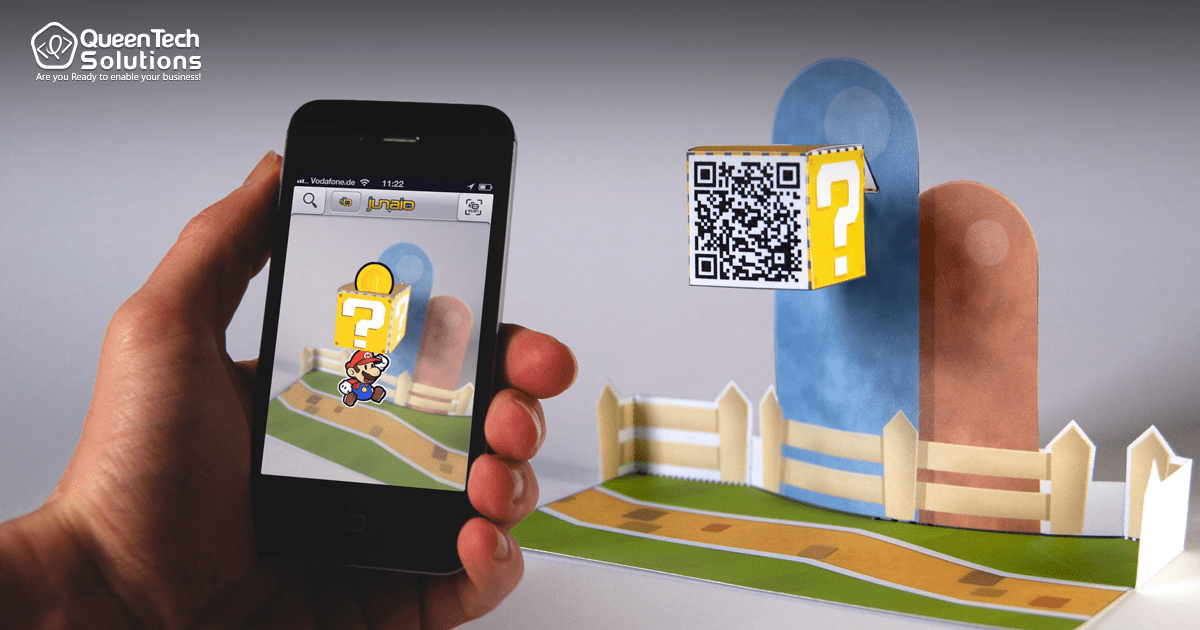 When did Augmented Reality first appear?
AR has been around for decades, it was first introduced to the public as a concept in the early 90s.
When virtual reality goggles were integrated into arcade games machines, allowing users to immerse themselves with others in the world of 3D visuals of games.
Then, Augmented Reality became very popular through gaming headsets, which gamers used to have the full gaming experiences on their own consoles.
The biggest value of augmented reality is….
The way in which all components of the digital world blend into a person's perception of the real world, through the integration of components from different worlds.
First functional Augmented Reality systems that provided immersive reality experiences for users, were invented in the early 90s.
And the most common and known experience was developed at the American Air Force's Armstrong Laboratory in the year 1992.
But commercial Augmented Reality experiences started in entertainment and gaming businesses later on.
After that, Augmented Reality Applications have expanded to commercial industries such as Medicine, communications, Industry and all business aspects.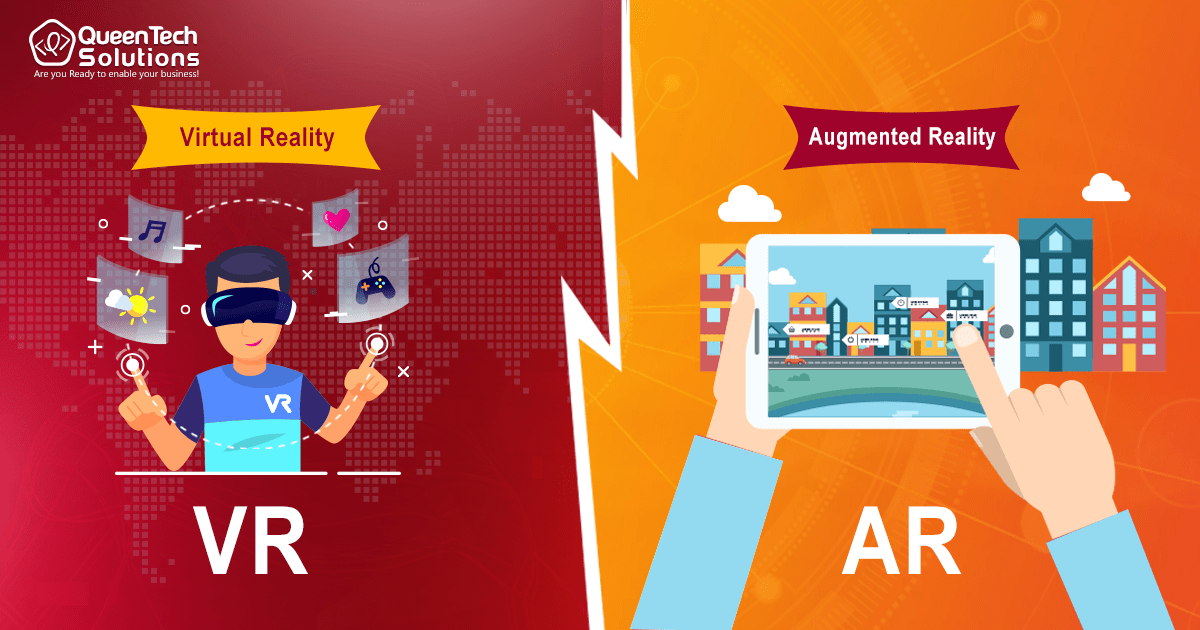 Easy Visualization:
Augmented Reality apps make it more easy and possible for the users to visualize virtual objects in the real world.
users can modify and customize characteristics (size or color & more….) which enables so many visualization potentials for them.
Accurate Information:
One of the main benefits of Augmented Reality Applications is that it provides users with more information on every product, material and space in real life.
For example, developing Augmented Reality Applications helped the retail industry by allowing customers to have valuable information about every Product and its characteristics, usage, availability and more…
Unique UX "User Experience": 
One of the most critical advantages of Augmented Reality applications is that it gives users the ability of making correct decisions based on knowledge and visualization, not just an opinion.
Improve the brand Image:
Any new technological innovation can became very popular among users and potential clients.
Any brand that chooses to use Augmented Reality Applications development will have the advantage of gaining clients' visibility, attention and interest into their business. 
One of the main motives behind the advertising & marketing industry because it helps to attract new clients and retain the existing ones is Augmented Reality Applications.
Competitive Advantage:
Augmented reality applications appeared to be a new way to reach more clients.
Which gives the business many advantages regarding its competition, and the chance to introduce a new valuable service.
AR helps strengthen the brand position and name, Plus creating a great mental image in the memory of all users.
While that being said, Augmented Reality applications become an essential sales tool…
It also makes your brand more memorable, attractive and sellable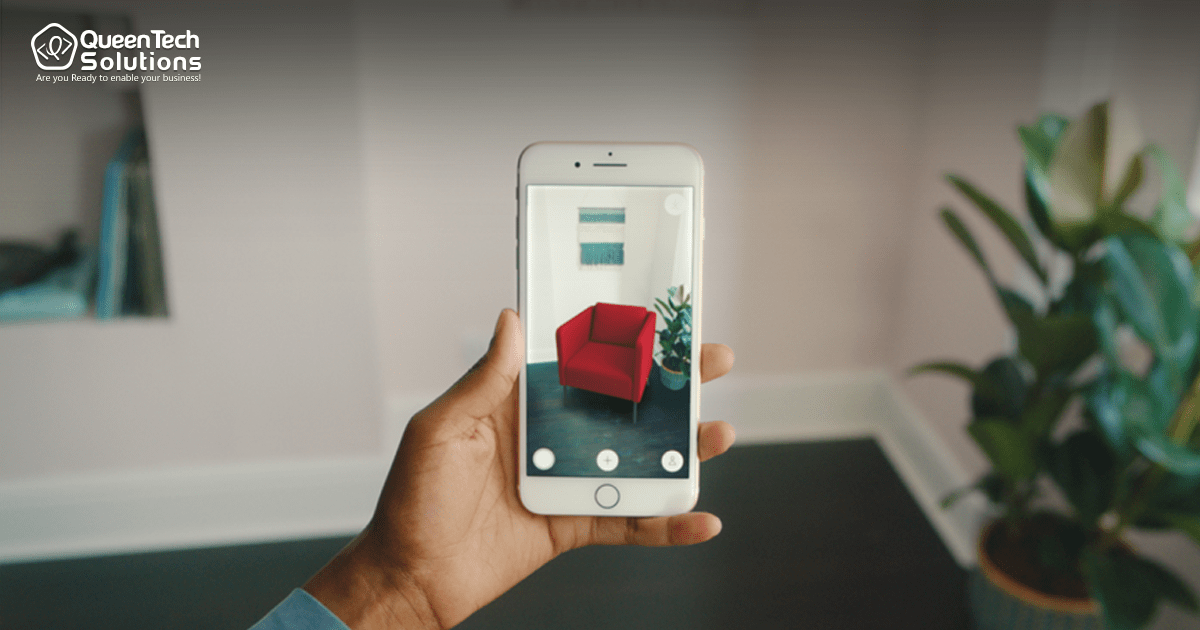 Use of AR Applications development in Business.
Education:
Augmented Reality today is helping more than 100.000 students to achieve enhanced learning results.
And that's through giving them the ability of visualization and full immersion in subjects they study.
Instead of just reading about stuff, students can see, engage and learn. 
And as a result, the education process became more reliable, accessible, interactive and fun.
Medicine:
AR applications have become very popular in the medical field.
For example, Today, surgeons are using Augmented Reality headsets Like Microsoft's HoloLens, to be able to access patient data and digital images (details of a patient's aneurysm) while operating.
This allows the doctors to stay focused in the operation without instant looking on multiple screens to get more information. 
Retail:
Through Augmented Reality Applications consumers can acknowledge the real appearance and size of every item in a realistic way before buying it online.
That includes how the product will look and its functions.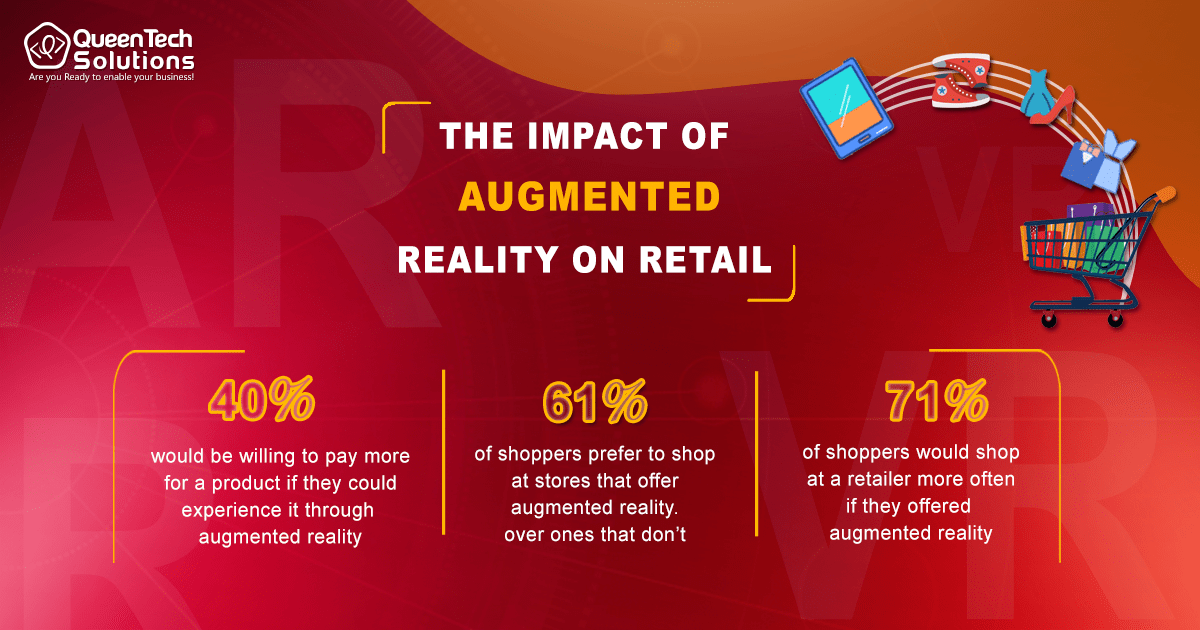 For example, "Dulux Visualiser" application that allows users to try many different shades of paint colors on their walls before buying it.
Training:
Augmented Reality Apps accurate simulation of conditions can help employees and workers to practice the skills required for their jobs.
Such as physicians, teachers, soldiers, Pilots, and police officers to practice the skills before using them in real-life situations.
Car repairs: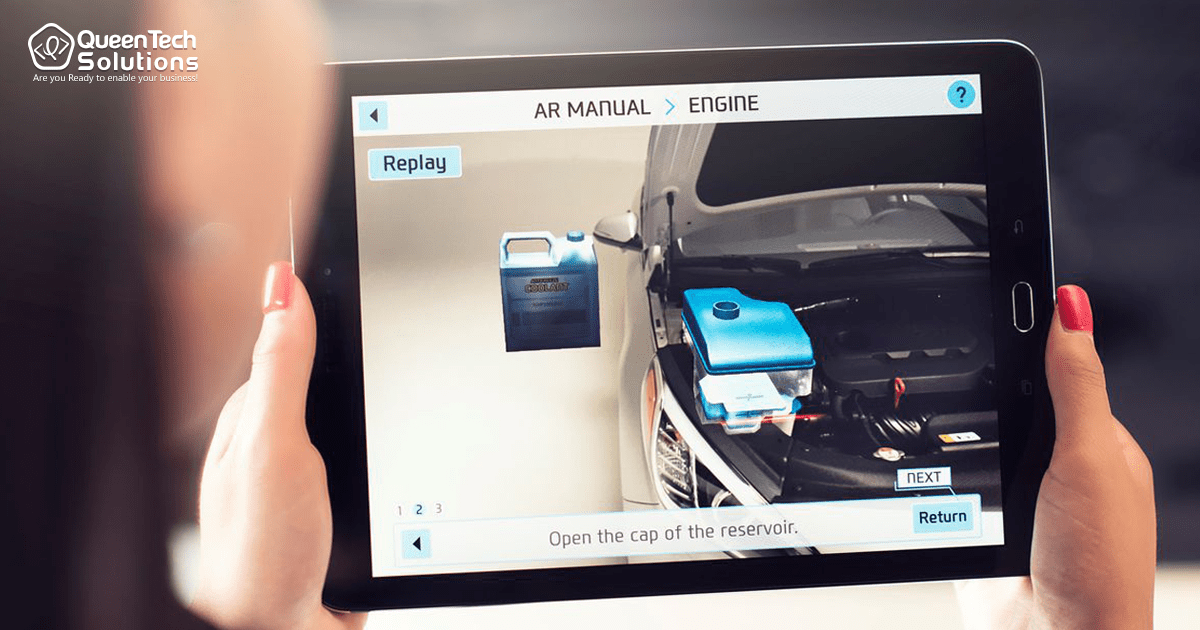 Using Augmented Reality Applications  mechanics making repairs on  high-complex vehicles.
They can view inside images and information on their connected devices, to define and locate the damaged parts and repair it more quickly and easily.
Future of Augmented Reality: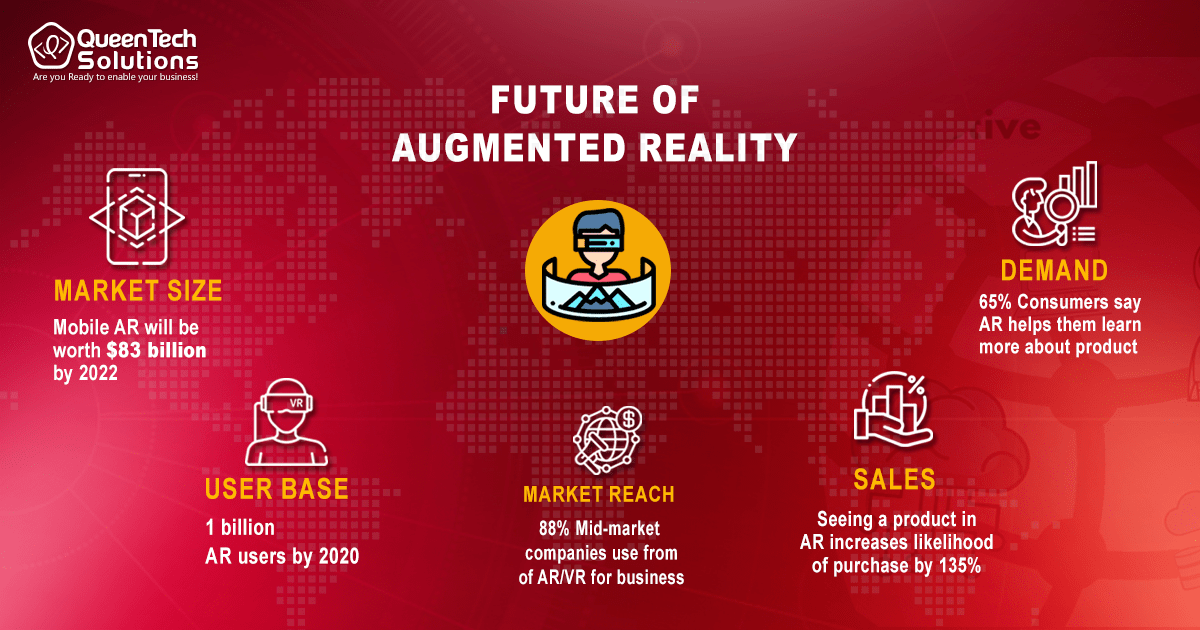 In conclusion,  there is so much evidence on how Augmented Reality applications can help and benefit every business in so many ways.
So, if you want to explore how Augmented Reality can be relevant to your business and how it can help it, we can help! Learn More about AR mobile apps development service.
Queen Tech Solutions specializes in mobile application development solutions and can build responsive and robust AR apps for your business. Contact us